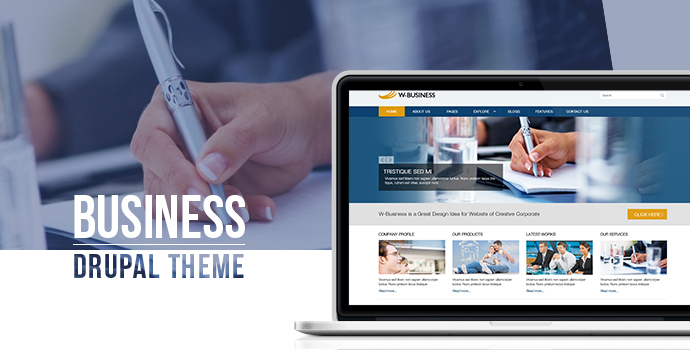 Over the past months, Weebpal team has worked tremendously on a few themes, one of which is Business. Our team has invested quite a lot on the design, usability, modules, technology for this theme, and we suppose this will help your company by bringing along a convenient modern website template.
Dig into the main feature:
    1. Simple & clean design
Take a peek at the design.
The theme brings a sleek appearance that is soft looking to users' eyes. There are three color schemes to choose, and all of them create a different feeling but the same subtle polished look.
    2. Easy to use and customization
This is a strong point of the theme, which is different compared to some other themes Weebpal has developed before. Users will find it easy to customize but still maintain the key points, the structure of the website.
    3. Strong & customized content types for a business website
As the name has said, this is a theme for business. Consequently, all of the content are to serve this purpose.
Some exclusive contents:
    About page
    Services page
Move mouse to the title to display details of each service title.
    Partner Page
    Company members
    4. Various website display views:
There're a number of views type in the theme: Grid, List, Accordion, Flex Slider,… All of them create a wonderful experience, and an delightful display for the website
    Grid
    Flex Slider
    5. Up to date technology
We know the importance of your website for business. The theme makes use of all modern technologies to render your website appear hilarious, search engine friendly, easy to use and analyze,…
    
        Bootstrap 3.1
    
        Full responsive theme
    
        Font Awesome
    
        Google Analytics
    
        Search Engine Optimization
    
        Social Media Integration
    6. Detailed guide & supportation:
Attached in the buying backpage is a very detailed guide which helps install the theme in 2 ways:
- Install the full template, which is suited for newbies who have little or no knowledge about setting up Drupal site and wish to set up website easily.
- Set up gradually while customize the theme to user's liking. This is suited for developers or consultants who wish to configure the theme to suit their taste.
    Modules:
    
        Views: View Slideshow, view accordion.
    
        Quicktab
    
        TB megamenu
    
        Gallery formatter
    
        J Carousel
    
        Flex Slider
    
        SEO
    
        Google Analytics
    
        Font Awesome latest version
Agrr, I suppose this is too much for a theme review, check out the demo to dig further into the theme.
You can browse more themes on the Drupal themes section.
Love it? Business is available on Weebpal website now.