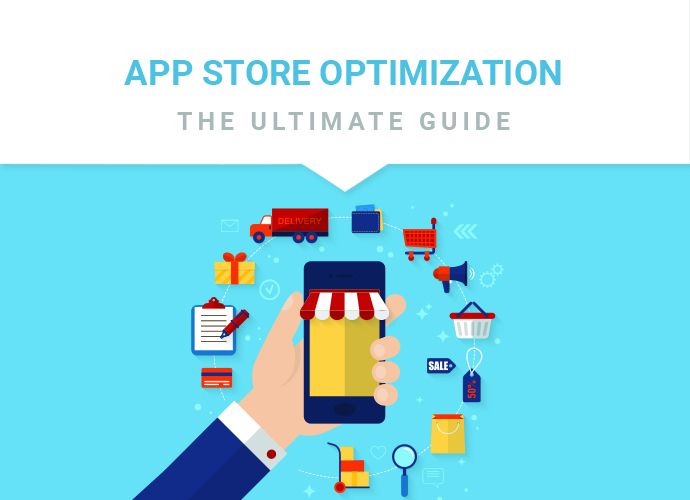 1. WHAT IS ASO?
ASO is mechanics used in the app stores to help an app rank higher in app stores' search results. Common people's behavior is that we only look at apps that rank in the top results when we search for a keyword (mostly no more than 20 apps). For this reason, most apps in the top will take all of the glory and traffic. If your app is not on top, most users won't notice and install it.
The purpose of ASO is to increase app visibility, and drive more traffic to app's page so searchers can download your app.
There are several elements to an effective ASO strategy but the first crucial piece of ASO lies in an understanding of people's behavior in the app stores: the potential keywords that people are most likely using to find apps similar to yours. With this understanding, you can optimize your keyword choices to gain more traffic and installs for your app.
2. WHY IS ASO IMPORTANT?
There are many marketing methods for an app in the app stores; however, ASO is still one of the most effective app promotion methods.
According to research firm Forrester, 63% of users discover apps through general browsing in the app stores. Anki Jain from Google I/O reported that "for the average app, search actually makes up the vast majority of installs."
This means that if you don't invest in your ASO strategy, you are missing out on a large number of installs. Despite the importance of ASO, the majority of publishers are not investing in ASO. Invest in your ASO and you will improve your app ranking and its overall success.
3. WHAT ARE THE MECHANICS OF ASO?
Title: Your title should contain the main keyword. Keyword in the title is the one with the heaviest traffic. A study conducted in 2013 showed that apps with the keyword in the title ranked 10, 3% higher than apps without the keyword in the title. App title should be descriptive of the app function and provide instant knowledge about app's key values (e.g. Pinterest – Pin your interest).
Keywords: To do ASO, you will need to know which keywords are relevant and searched most often by your target audience. It is useful to do an analysis of competitors' keywords first. This will give you some potential keywords that can be added to the list.
Because app title and keywords can be modified easily, you can regularly optimize them.
Apart from the main factors like app keywords and title, secondary factors such as the number of app downloads, rating and reviews also have an impact on ASO.
For new apps, I advise that you can buy incentive installs, rating, and reviews from incentive mobile ad networks. A few of them include Supersonic, TapJoy, NativeX, FreeMyApps … There are always 2 sides to a coin. Based on my experience, while incentivizing users to give you positive reviews and rating is not the best method out there, a large number of app installs and positive rating and reviews gives your ASO strategy a boost and makes it a lot easier to improve your app ranking.
4.CHOOSING KEYWORDS
4.1 Create keyword list
Think about all related words that people can type in the "search" box in app stores to find your app. Write them all down in a spreadsheet. This way, you won't miss any potential keyword and you can reduce this list until there are only the best ones left.
Use tool like Google Key Planner to help you generate new keyword idea for your app. This is the most reliable tool you could use to research keyword. However, this tool doesn't give you searches done on Google Play but only those done through the Google Web Search. Still, it is useful for app publishers since there is a similar search pattern of users between Google Play and Google Web.
How to use Google Key Planner:
Sign up for Google AdWords. You need a Google email (one used for Gmail, YouTube) and your website address to sign up. Once you complete, go to Tools->Keyword Planner to start researching for keyword idea.
Choose "Search for new keywords using a phrase, website or category"
Enter the description of  your app (e.g. Candy Crush Saga)
Enter your app's page. It's not compulsory to choose a product category.
Fill in information for the "targeting" section, including country, language, search engine options and negative keywords
Choose date range to filter the average monthly searches for a specific period of time
When finished, click "Get ideas"
By now, you should have a keyword list that looks like this:
You can use the "keyword filters" tab on the left to filter out keywords of your preferred level of competition, e.g. medium competition. Now, Google Key Planner will only show you keywords with a medium level of competition.
Apart from keywords suggested by Google Key Planner, you can add more potential keywords to your list by reading the reviews of your app or your competitors'. How to define "competitors"? Apps that are in the same competition with you are apps that have the same playing rule, functionality, category, and theme or solve the same problem that users may download instead of yours.
Usually, users would leave a comment on the features that they like the most. You can look for repeated terms or phrases in these reviews that can be potentially added to your keyword list.
According to research, about 5-10% of searches are words related to emotions like "fun". However, as there are a lot of developers who use these words in their app descriptions, the level of competition of these keywords are very high so don't overuse them.
You can also add potential keywords to your list by using autocomplete suggestion in the app stores. This is similar to that of Google Web. When you type a letter in the Google Search Box, it often autocompletes your searches by rolling out a list of suggestions that look like this:
In the app stores, this autocomplete suggestion will give you the keywords that are usually searched the most by users.
4.2 Choose keywords
After your keyword list is complete, the next step is to create an            "average searches" column for each keyword. This is an element to be taken into consideration to determine which keyword can be optimized.
To determine the level of the potentiality of a keyword, you must consider these following factors:
Is the keyword that you have chosen relevant to your app? You want users to download your app when they search for a specific keyword. If your app is a puzzle game, and someone searches for the keyword "book apps", how likely would that person download it? If your app is irrelevant to users' searches, chances are they will ignore it.
The ultimate goal of ASO is to rank in the top 10 or top 5 for a specific keyword. However, that is easier said than done with keywords with a high level of competition given the number of apps in app stores trying to achieve the same thing. In conclusion, you should only choose keywords that you can rank in the top 10 for.
This is extremely important. You want to drive traffic to your app so it's better to optimize for a keyword which has a decent number of searches. You don't want your app to rank top for a keyword that has only 10 searches a month. Even if you can rank number 1 for that keyword, the maximum number of installs you will receive will only be 10 installs.
There are keywords that are easy and difficult to optimize. If you don't have much experience with ASO, start by choosing a keyword with a low level of difficulty.
Use tool like Sensor Tower to determine the difficulty of a keyword.
Sign up for an account at https://sensortower.com/
Sign in to your account, choose "Add New App" and enter app name (Here I choose the Clash Royal app)
On the left-hand side, click "App Store Optimization", choose "Keyword Research" and enter your keyword (here I enter keyword "multiplayer game")
According to the data, the traffic for keyword "multiplayer game" is 1/10, which means very little traffic.
The iPhone difficulty data shows how difficult it is for an app to rank in the top (in the app store) for this keyword. Here this number is 6.5/10, which is at a medium level of difficulty. This number also implies the competition level of a keyword because the more a keyword is chosen to be optimized, the more competitive it is for app developers.
In short, I wouldn't optimize keyword "multiplayer game" based on the traffic and iPhone difficulty shown above.
It's equally bad if you can rank top for a keyword that has only 10 searches in average per month, or rank 30th for a keyword that has 1 million average monthly searches. For the prior, the maximum number of downloads you can get is 10 downloads. For the latter, despite the great number of traffic, you will probably get no download or very few downloads because according to research, the majority of people don't look outside the top 20 apps.
4.3 Fill in keywords
General requirements of keyword:            
Research competitors' keywords
Separate keywords by comma
Find all possible keywords: singular, plural, synonyms, antonyms, misspellings
Concentrate on short, relevant keywords
Don't repeat keywords such as your company name or app name in app description because these are already included in App Store's search function
Choose popular keywords
Use numbers instead of words
Depending on the market, use English keywords or local keywords
Avoid keywords that are banned or violate App Store's policies
For iOS:
Enter 100 characters for keywords
Duplicate your most relevant keywords in app title. Do not include any special characters in your app name, like the trademark and copyright symbol
Separate words with commas, not spaces. For example, if you want to enter the keyword "puzzle game", enter "puzzle, game" into the keywords box
Don't repeat keyword because each keyword is only counted once
       For Android:
Google Play Store doesn't have a place to enter the keywords; however, you can write a 4000-word description for your app. Doing ASO on Google Play Store is quite similar to SEO for a website. To get the best result, you must enter the keyword at least 5 times into the description.
Many app developers try to stuff as many keywords as possible into the description; however, the important thing is to remember that you are writing for humans to read at the end of the day, not machines. You want your users to read an interesting, entertaining and informative description about your app with a clear call to action, not purely algorithms (that's terrible). It's also better to translate your app descrition into several languages for your app to reach more audience.
5. Icon and screenshots
Most users will look at the icon and screenshots to judge the quality of your app. Poor icon and screenshots signal the fact that not much efforts are invested in the app and it has poor quality.
Icons should have no word on it because it will only add unnecessary distraction to users. The icon must be able to highlight what the app is about and is unique enough to make users remember about it.
The firs thing most users will look at before they decide to download your app is screenshots. Screenshots let users have a peak into your app content and see how good it is. So invest in your screenshots because they play a strong role in impacting app download decision of users Screenshots must present your app in the best light and have high- resolution quality.
6. Downloads, rating and review
6.1 Number of downloads
Like I mentioned earlier in my blog, besides choice of keywords, the number of downloads also impacts on your app ranking and ASO effectiveness. You can buy app installs from companies like TapJoy, NativeX, FreeMyApps, Supersonic… to give your ASO a boost. It is much easier to improve app ranking if your app has a large number of downloads.
6.2 App rating and review
App rating and reviews impact on the app download decision of users.      People often choose to download an app that has positive reviews over bad ones because they trust what other users say about your app. The reviews sometimes reveal a lot about the app and can convert into downloads.
App rating reflects the quality of the app. Like reviews, people prefer to download apps that have a high rating. Rating and reviews can come from acquaintances, family, friends, and current users. After users have used the app, ask them to rate and leave reviews for your app. Negative reviews can be used as material to improve app quality in the future.
---
In conclusion
ASO is a constant process of practicing and learning from the experience. Overall, for ASO to work, it is important to choose the right keywords, get the title and descrition right, and invest efforts in app icon, screenshots and boost the number of installs, rating and positive reviews. I hope that this blog post will help you to do ASO successfully in the future.